Pre-Registration Of Your Curriculum Vitae/Resume With Zimbabwe Power Company
To register please click HERE
OUR MISSION:
To generate and supply electricity sustainably.
OUR VALUES:
Teamwork– Bound and powered together as one, we shall maximize the skills base of team members.
Environmentally Friendly– Zero harm to people, plant and the environment.
Client Focus– Powering the economy and homes into the future.
Innovation– Creating energy solutions with the courage to implement.
Professionalism– Fearless, diligent and accountable application of our skills with integrity.
Corporate Social Responsibility– Uplifting the welfare of our communities.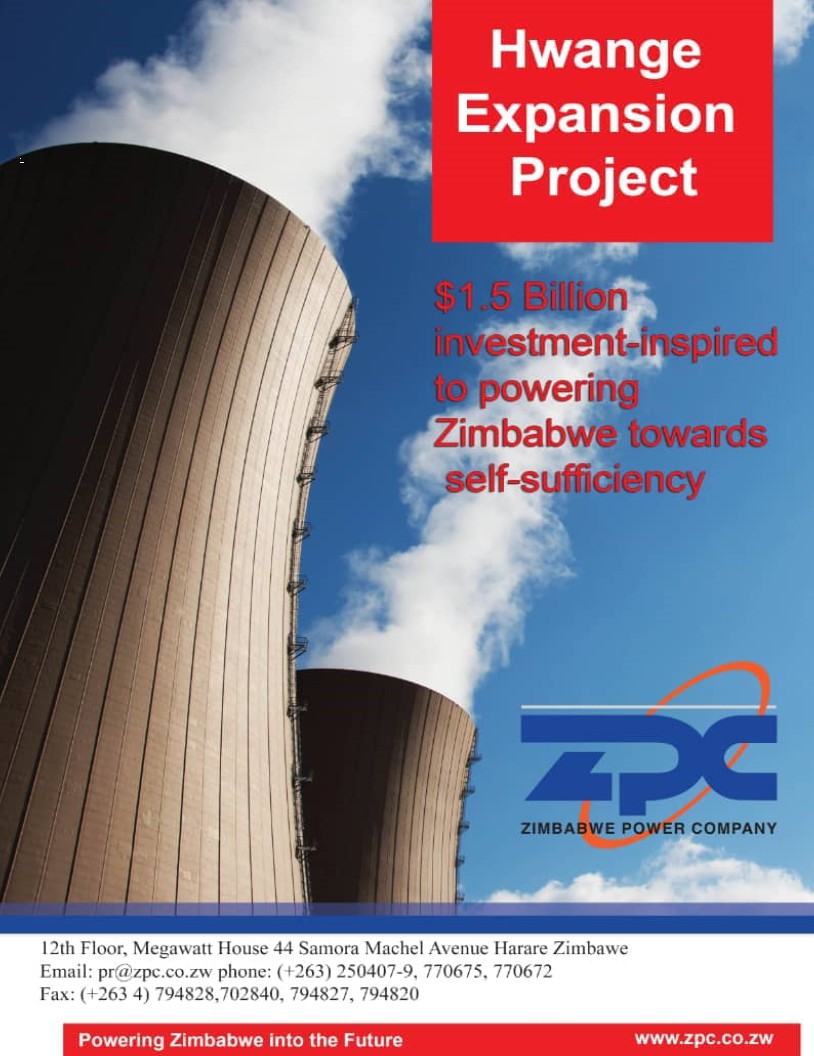 POWER COLUMN 4th QUARTER 2020
The Zimbabwe Power Company (ZPC) surpassed the 4th quarter energy sent out a target, which was set at 1,667GWh by 1.91%.
The company however faced challenges during the fourth quarter of 2020 owing to small thermals, which generated way below target because of coal stock-outs and aged plants, which caused constant breakdowns. Hwange's Unit 3 and 6 continued to be unavailable due to extended outages.  In order to compensate for the depressed generation at the thermal power stations, Kariba Power Station was ramped up and in the process exceeded its 2020 water allocation by 16.34%.
Kariba lake levels dropped from 479.85m ASL at the beginning of the quarter to 478.38m ASL at the end of December, a net decrease of 1.47m. As of the end of the fourth quarter of 2020, Kariba Power Station utilised 15.71Bm3 of water and generated at an annual average of 422MW. The annual water allocation of 13.5Bm3 was thus surpassed by 16.34%. ZPC was allocated 15Bm3 of water for generation in 2021.
According to the energy supply, Hwange Power Station contributed 35% of the total energy production, Kariba Power Station contributed 63%, with 6% of the energy being exported to Nampower. Small Thermals contributed 2% of the total energy production during the quarter.
At the end of the quarter, construction of the Hwange 7 and 8 expansion project was at 58,29% against a target of 78,5%, yielding an unfavourable variance of 17,51%. This was mainly attributed to the Covid 19 pandemic and the outstanding IPC payments on the 85% by China Exim Bank.  At the end of this quarter, Sino Hydro had a total of 2532 employees, 620 being Chinese and 1912 locals. There are 252 sub-contractor employees including 217 locals.
*NB* Advertise all your Companies (big or Small) with iHarare jobs: contact us for more information… 0719553310
*NB* Get your old Cv transformed into a modern Resume by iHarare Jobs experts. Contact iHarare Jobs on WhatsApp or call on 0719553310. Distance is not a problem as all are processed through social media platforms
You may need to see more jobs below:
Multiple Vacancies At SNV Netherlands Development Organisation 2021: Zimbabwe, Rwanda, Kenya, Zambia, Uganda, DRC, Moza, Netherlands, South Africa, Niger, Ethiopia.

Multiple Job Vacancies At FHI 360 In Africa: (DRC, Nigeria, Rwanda, Zambia, Moza, Tanzania, Ethiopia, Egypt, SA, Ghana, Botswana)

Multiple Vacancies At United Nations Development Program (UNDP) N.G.O (Zim, SA, India, USA, Haiti, China, Serbia, Niger, Tunisia, Thailand, Uganda, Turkey, Colombia, Zambia)